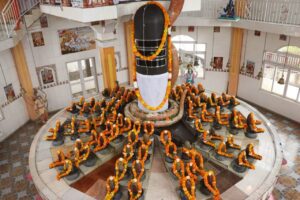 The Spiritual Park Cum Religious Retreat and Museum on Culture and Religion on land provided by the State of Mauritius to the Hindu Community through Hindu House at Ganga Talao- Grand Bassin.
1st Phase Shiv Mandir and Gawshala
The Shiv Mandir consisting of 108 shiva lingams and the gawshala has already been completed. Numerous devotees visit the mandir and perform their pujas and religious ceremonies at the gawshala which is very appreciated by everyone. Devotees also attend prayers at Shani Dev Mandir and Kartikaye Mandir. A large hall is used to provide mahaprashaad to devotees attending puja at Grand Bassin. Future vision and ongoing project for spiritual park cum religious retreat is the Multipurpose building at Grand Bassin.